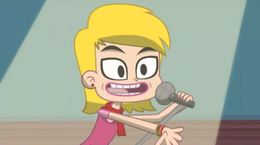 The Loopy Loops Cereal Theme Song is the theme song for Loopy Loops cereal. It was sung by Sarah, with the Glee Club Kids singing backup, in the episode Part 2 of a Balanced Breakfast.
Lyrics
[
]
Sarah: Hey there, little buckaroo want to be a champ?
A race car driver, space cadet, or a pirate with a map.
Here's an endless bowl of fun, for you and your troop.
Grab a box, pack your socks! A loop loopity loop!
It's formulated for you and your bestest friends
with a dash of radiation, so the fun will never end!
Sarah/Glee Club Kids: An infinite adventure, go ahead and grab a scoop,
Sarah: hang on tight, take a bite, loop loopity loop!
Teacher: Side effects may include ...
Sarah: A strange sensation that you just did the thing you did,
a loopy deja vu snafu will make you flip your lid!
Sarah/Glee Club Kids: Scientists agree it's only dangerous for kids!
Sarah: Grab a spoon, and sing thing tune.
Sarah/Glee Club Kids: Loop loopity loop!
Ooooooh!
Trivia
[
]
The term "Snafu" is included in the lyrics, used to describe the unfortunate situation of getting deja vu. Snafu was a term used in the military, during World War 2, as an acronym for "Status Nominal: All F***ed Up" or "Situation Normal, All F***ed Up". In the Looped universe, this song was written during the time period, where those exact events were currently happening, as Wilt Doover's rise to fame and the popularization of Loopy Loops mainly occurred in the 1940's and 1950's.