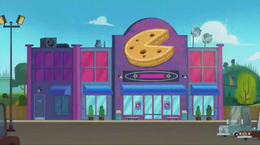 The
Chunk O Cheese Arcade
is an entertainment center, that's an obvious parody on Chuck E. Cheese's. It makes occasional appearances in the show.
Biography
Edit
In "Wizard of Wacker Maze", the game Wacker Maze, which was formerly in the arcade of Chunk O Cheese had been either purchased or stolen by teachers of Port Doover Elementary and given to Kyle Bush as a birthday present.
In "Back in the Saddle", McGal and Spritz got jobs as snack bar servants. A play, involving mascots, dressed as mice, rats, and chunks of cheese, portrayed Chunky being stolen by Rusty Rat. The due misunderstood how this was all scripted, and they tackled Rusty Rat and placed him under arrest.
In "Glitch Girl", Gwyn, Sarah, and Amy were part of a secret all-girls rollerskating club, that went on in the facilities girls bathroom, which was apparently big enough to contain an entire rollerskating rink.
Episode Appearances
Edit
Community content is available under
CC-BY-SA
unless otherwise noted.